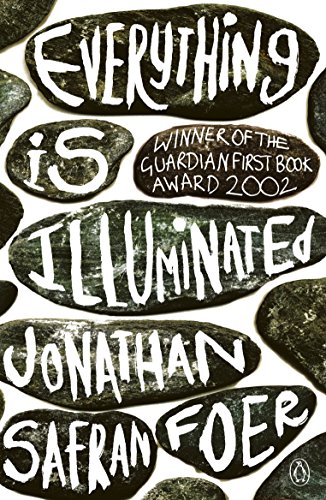 Everything Is Illuminated
Jonathan Safran Foer
A young man arrives in the Ukraine, clutching in his hand a tattered photograph. He is searching for the woman who fifty years ago saved his grandfather from the Nazis. Unfortunately, however, he is aided in his quest by Alex, a translator with an uncanny ability to mangle English into new forms; a 'blind' old man haunted by memories of the war; and an undersexed guide dog named Sammy Davis, Jr, Jr. What they are looking for seems elusive - a truth hidden behind veils of time, language and the horrors of war. What they find turns all their worlds upside down...
Recommended by Rebecca
It was Foer's second novel, 'Extremely Loud & Incredibly Close', which got a huge amount of attention for its film adaptation, but this book too was made into a film – starring Elijah Wood. As a teenager I had a pretty big crush on Elijah Wood, and without that I would never have heard of this book or asked for it for my thirteenth birthday. While I'm aware that you won't have the same route to this novel (who knows), I think that it's a) impressive enough that Safran Foer wrote and published this by the time he was 24, a year younger than I am now, writing to you with no book under my belt and b) the greatest book that exists on the planet. I have never read a better book. I admit that I read it in the summer, in the sunshine, on the week of my thirteenth birthday. I accept that hormonal giddiness may have been doing something to ramp up the intensity of my reading experience. I will never, though, admit to the existence of a better novel. Which is at least partly why I am having such trouble writing one at all. A novel that is, not a better one, because we know that will never exist.
So to get on with what we're here for – 'Everything is Illuminated' tells the story of a young Jewish American man (also named Jonathan) and his quest to discover more about the history of his family, and what happened to them and their village during the Holocaust. Alongside this story are other narratives – told through letters from the fictional Jonathan's guide and translator, whose grasp of English is excellent and somehow always wrong, or as the history of Trachimbrod, the shetl (village) that Jonathan has come to seek out. I've read that Safran Foer calls the collective narratives a 'collage'. They fit together, and are counterpoints to one another. A chapter on the painful realities of life in the village ends and suddenly the translator-guide is telling a bad joke which is funny for other, stranger reasons resonating with his own story. There are so many layers to this book. It merits reading and re-reading, it contains so many different lives and worlds that are vacuum-packed down into a short novel and just waiting to be read, pondered on, carried with you. It's difficult, ultimately, to recommend something I have loved so much for almost thirteen years (in other words half my life) and which has shaped my approach to reading since then. I know that I have over-hyped and set you up for disappointment. So to finish – this book is awful and you should never read it, and certainly don't read it twice. Enjoy.